Photographing Christmas Island with Award-winning Photographer Chris Bray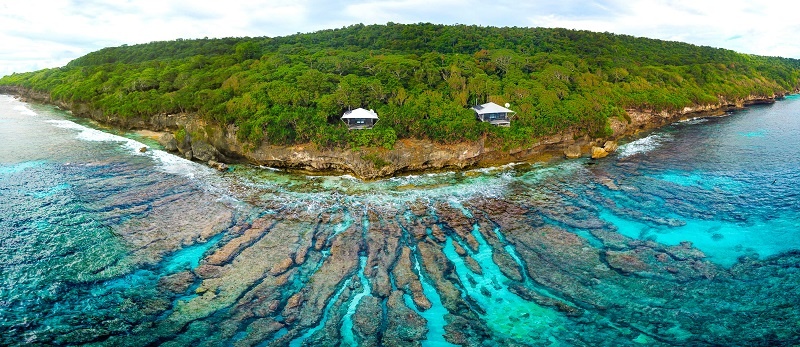 Image Credit: Chris Bray
DJI Mavic drone | 1/640 sec @ f/2.2, ISO 100)
Encircled by pristine coral reefs, some 2,600km northwest of Perth, lies one of Australia's best kept secrets: Christmas Island. Often dubbed the 'Galapagos of the Indian Ocean', this little-known paradise is home to some of the world's most unique and photogenic spectacles. From its wild, remote landscapes to its rare and unusual wildlife, the place is every travel or nature photographer's dream.
One man who knows Christmas Island—and how to photograph it—better than most is award-winning photographer and LUMIX Ambassador Chris Bray.
A lifelong adventurer, Chris has sailed the world, led Arctic expeditions and had his work published by the likes of National Geographic, the Discovery Channel, and TIME Magazine. He's also a prominent conservationist and the founder of Chris Bray Photography Tours, which pursue the most extraordinary wildlife, landscape and cultural experiences the world has to offer.
Here Chris reveals nine of his favourite images from Christmas Island, and how he captured them.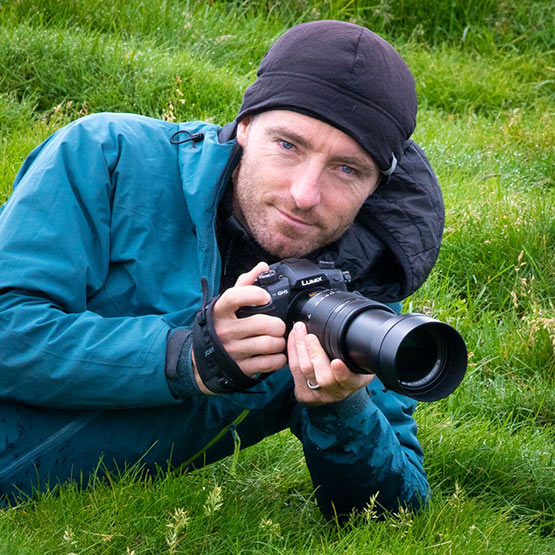 Image Credit: Panasonic Australia
Swell Lodge
(Pictured top of page)
Located on the far side of one of Australia's most remote islands, Swell Lodge fronts onto a spectacular reef shelf and the only way to do it justice in a photograph is from the air.

Wary of swooping frigatebirds starting to take an interest in my drone, I flew my DJI Mavic out over the ocean and looking back, took a set of 14 photos (f/2.2, ISO 100, 1/640) to capture the whole of this sweeping vista. I then stitched them together into this single epic scene.
Robber Crab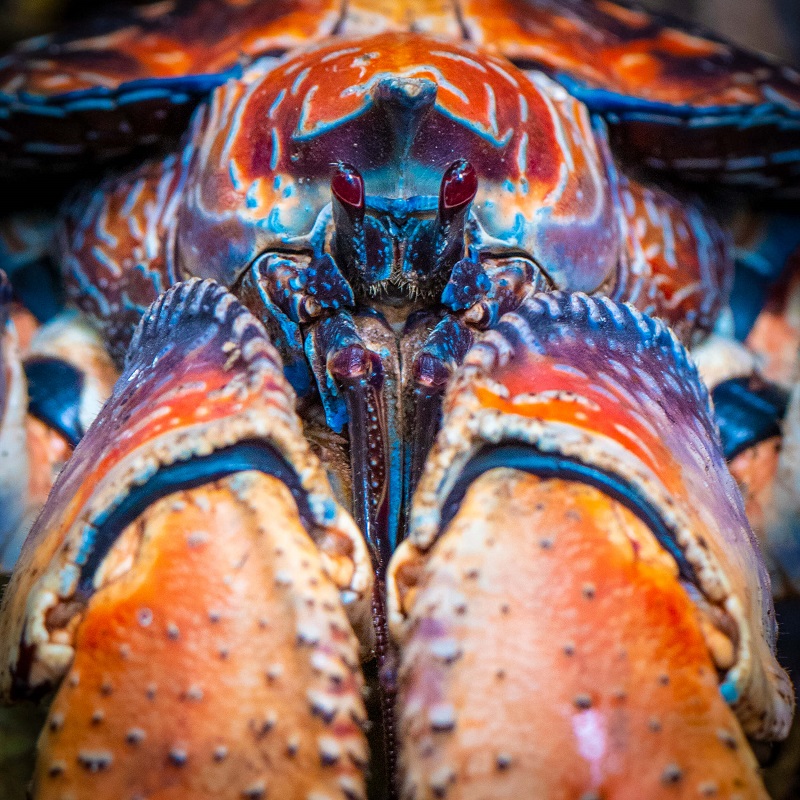 Christmas Island is home to the largest population of the world's biggest land-living invertebrate: the coconut crab, also known as the robber crab.

To capture the imposing size of this long-lived giant, I used a 45mm (90mm equivalent) macro lens on my Lumix GH5 and got in really close. Focusing on the crab's alien-like eyes and using a wide f/3.5 for a shallow depth of field to draw the viewer in, I needed ISO 800 to give me a shutter speed of 1/100 sec for a stable shot.
Frigatebird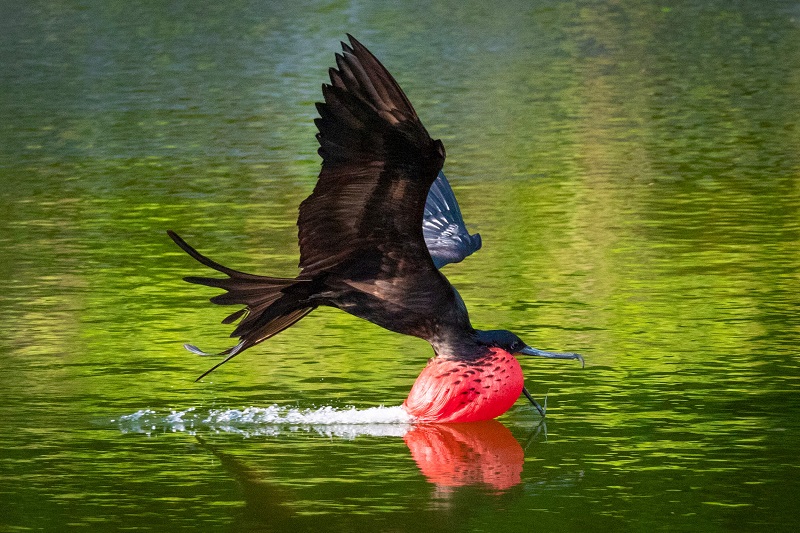 Image Credit: Chris Bray
Panasonic Lumix GH5 Camera + Panasonic Leica 100-400mm f/4-6.3 Lens (@ 150mm) | 1/2500 sec @ f/4.6, ISO 1600
Christmas Island is home to three of the world's five species of frigatebird – one of the most visually and behaviourally impressive seabird species in the world. Not only does the male have a spectacular red throat pouch that he inflates to attract a mate; frigatebirds are also perfect flying machines.

They have the largest wingspan-to-bodyweight ratio of any bird, can fly 4000m high in freezing conditions, and soar continually for weeks at a time on their 2m wings. They are so agile in the air that they can easily outmanoeuvre even the swiftest tropicbird in dramatic aerial dogfights forcing their hapless quarry to regurgitate a meal of fresh fish, which the frigatebird then loops back and catches mid-air.
Frigatebirds do, however, have hopeless little pigeon-like feet and their feathers lack the waterproof oily coating of most seabirds, so they can't land on the water. Such accurate flyers, though, they don't need to; instead they swoop down over puddles of water like this and snap up a beak-full to drink on the wing.

It all happens so fast, though; it's a real challenge to photograph and I have wasted many days of my life before managing to snag this shot using my Lumix GH5, set to a fast shutter speed of 1/2500 sec to freeze the moment, ISO 1600 and f/4.6 on my 100-400mm lens set to 150mm (300mm equivalent).
Underwater - Flying Fish Cove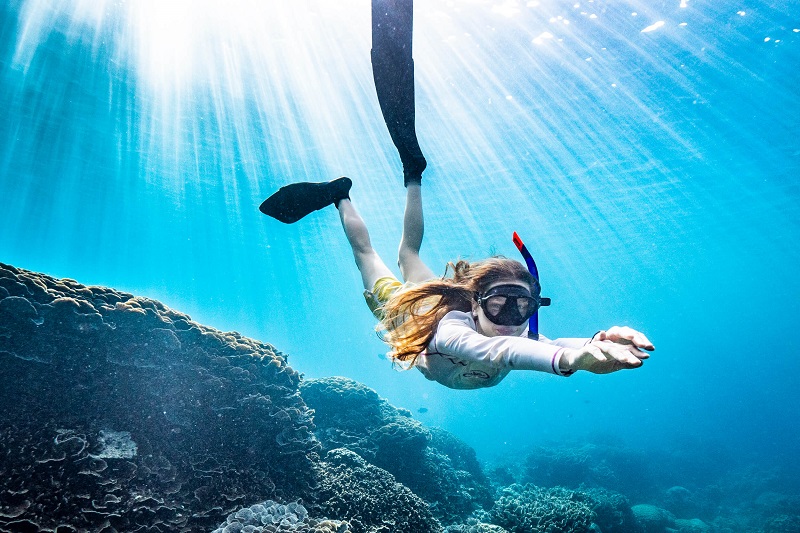 Image Credit: Chris Bray
Panasonic Lumix GH5 Camera + Panasonic Lumix G 8mm f/3.5 Fisheye Lens | 1/500 sec @ f/6.3, ISO 640
Christmas Island boasts world-class diving and snorkelling in its crystal-clear, warm 28°C water filled with coral, fish, and even whale sharks and manta rays in the right season.
Also Read: 8 Pro Tips for Underwater Photography

Here at Flying Fish Cove I photographed a local mermaid friend of mine, backlit against the sun to reveal the sunbeams. I was using my Lumix GH5 in an Ikelite underwater housing and wide 8mm (16mm equivalent) lens, set to 1/500 sec to prevent movement blur, which—with my aperture at f/6.3 to get enough depth of field—required ISO 640.

Sunset at Rocky Point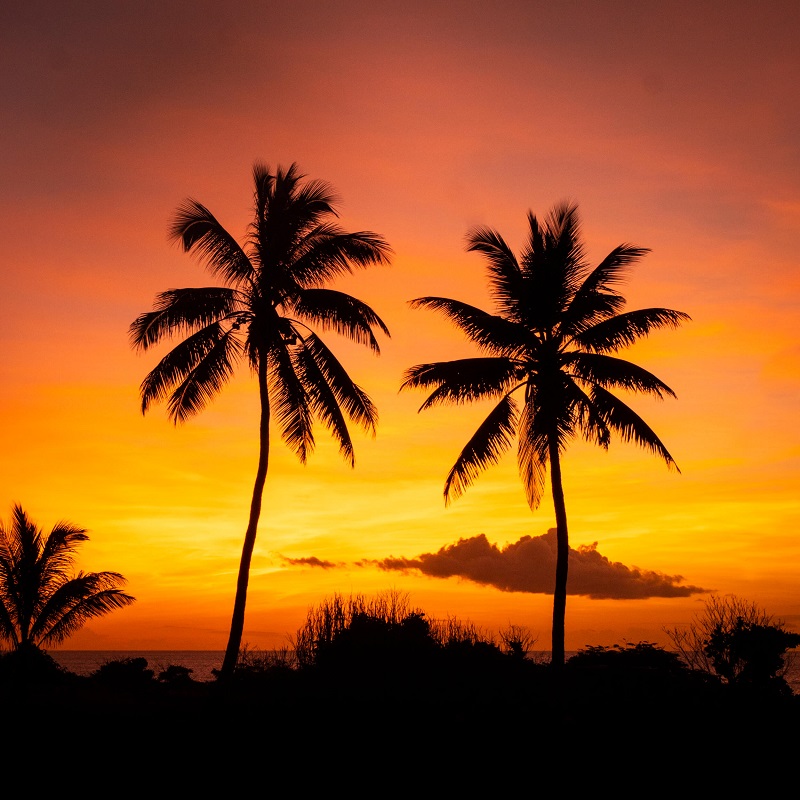 Image Credit: Chris Bray
Panasonic Lumix GH5 Camera + Panasonic Lumix G 14-140mm f/3.5-5.6 II Lens (@ 32mm) | 1/25 sec @ f/16, ISO 320
The classic tropical island sunset shot—some perfectly silhouetted coconut palm trees—is an easy photo to get on Christmas Island.

I shot this at Rocky Point while running one of our annual Christmas Island photography tour weeks, with my camera's white balance set to 'shade' to enhance the reds (a good trick for any sunrise/sunset), and my 14-140mm lens wound to 32mm (64mm equivalent).

A large f/# (f/16 in this case) gave a nice large depth of field to ensure the palms and background were all sharp and, with my ISO at 320, gave me a shutter speed of 1/25 sec. This was fine as I was using a tripod, and any slower would have resulted in movement blur from the fronds in the wind.

A good trick for any sunrise or sunset:
Set your camera's white balance to 'shade' to enhance the red colours in the sky


Half In, Half Out - 'Giant Trevally Spot'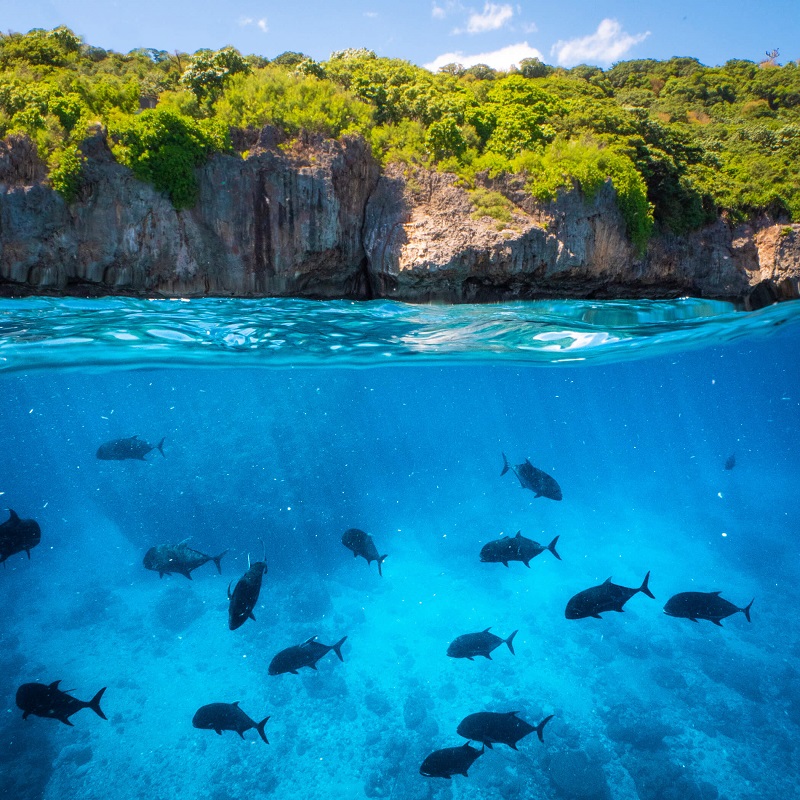 Image Credit: Chris Bray
Panasonic Lumix GH5 Camera + Panasonic Lumix G 8mm f/3.5 Fisheye Lens | f/16, 1/160 sec, ISO 640
Half-in, half-out shots like this are tricky, but I wanted to capture the vibrant green jungle plunging into the sapphire blue seas in the one shot.

The trick is to use a large f/# (f/16 for me) so that the background landscape and foreground fish are all in focus, and of course have your camera in an underwater housing – ideally with a large dome port and wide angle lens (around 16mm equivalent) so that it's easier to snap a shot when the water happens to be lapping somewhere across the middle of the shot.

Then just hold your finger down and fire off a pile of shots as you move the camera from above to below the surface. Somewhere in there will be the perfect moment! I used 1/160 sec at ISO 640, and pre-focused on the distant landscape.
Christmas Island Red Crab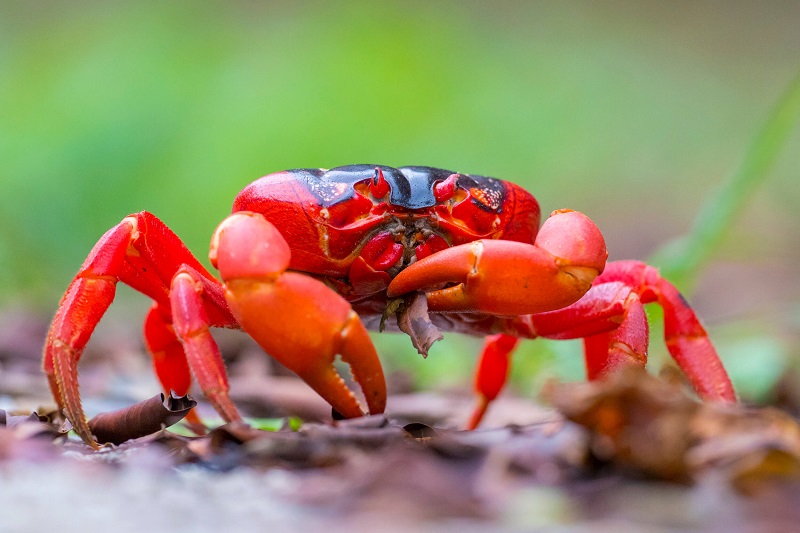 Image Credit: Chris Bray
Canon 1D X Mark II + Canon EF 200-400mm f/4L IS USM Extender 1.4x Lens (@ 325mm) | 1/1250 sec, f/4.0, ISO 2000)
Christmas Island's most famous inhabitant – the Christmas Island red crab! The annual mass migration of some 50 million of these docile crabs from their forest home down to the coast to spawn is ranked by Sir David Attenborough as one of the Top 10 Natural Wonders on Earth.
Also Read: Close Encounters - Wildlife Photography Tips

For a more intimate portrait, I lay down on the ground to get to the same height as the crab, using my long lens at 325mm, and a wide f/4 for a blurry green background. Shutter speed was more than I needed at 1/1250 sec because I still had my ISO up at 2000 for shooting birds in flight and forgot to change it! Oh well!
Hughes Dale Waterfall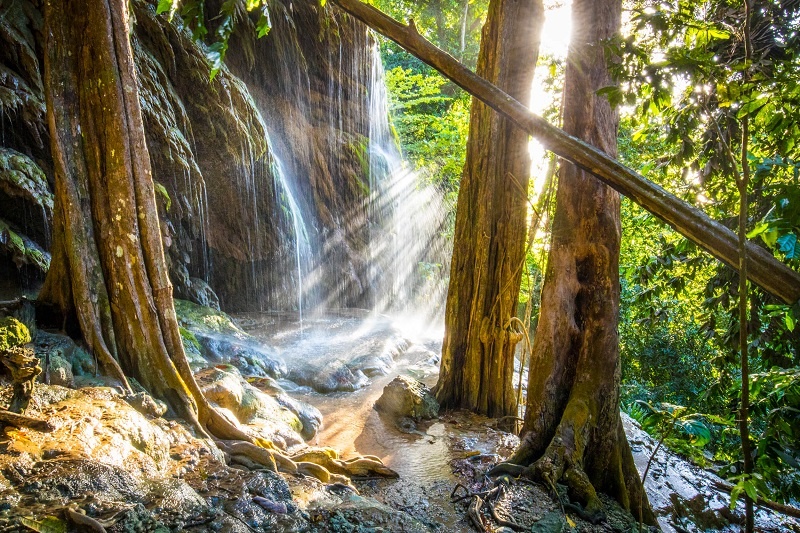 Image Credit: Chris Bray
Canon 1D X Mark II + Canon EF 16-35mm f/4L IS USM Lens (@ 21mm) | 1/15 sec, f/22, ISO 1250
A refreshing jungle waterfall shower lures many people along the 800m boardwalk from the carpark through the Ramsar-listed wetland here on Christmas Island.

In the evening, the sun shines through the curtains of water, and by using a large f/# (f/22 here) you can make every glint of sun burst into a little star.

Huge f/#s lead to slow photos though, so even at ISO 1250 my shutter speed was 1/15 sec, which meant I needed a tripod. But the slow photo also made the waterfall movement look beautiful.
Baby Crabs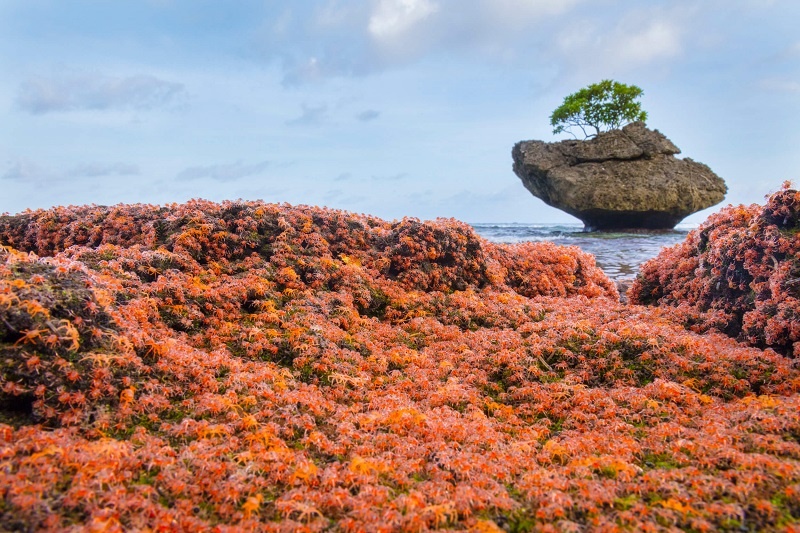 Image Credit: Chris Bray
Canon EOS 5Ds R + Canon 24-105mm f/4 L IS II USM Lens (@ 28mm) | 1/100 sec, f/22, ISO 800
Even more incredible than the annual migration of the adult red crabs is the occasional mass return of baby red crabs from the sea a month later!

Here a living red carpet engulfed the shoreline as the crabs marched upwards into the jungle. I positioned the scenic 'one tree rock' in the background and with my 28mm lens set to a large f/# (f/22) for maximum depth of field, ISO 800 allowed me just enough shutter speed—1/100 sec—to capture this remarkable scene.
For more info on the Christmas Island and other Chris Bray Photography Tours, visit chrisbrayphotography.com