Chile Trip Blog 2018
Words and images by Jess (Customer Service Manager) and Telan (Customer Service Administrator) from our Newstead Store.
Every year Panasonic Australia hosts a photography tour to thank speciality photographic retailers for supporting their products and brand. This year, we were lucky enough to be chosen to represent CameraPro on an all expenses paid Lumix G Tour of Santiago, Chile! We were also each gifted a Lumix G85 and 12-60mm kit.
DAY ONE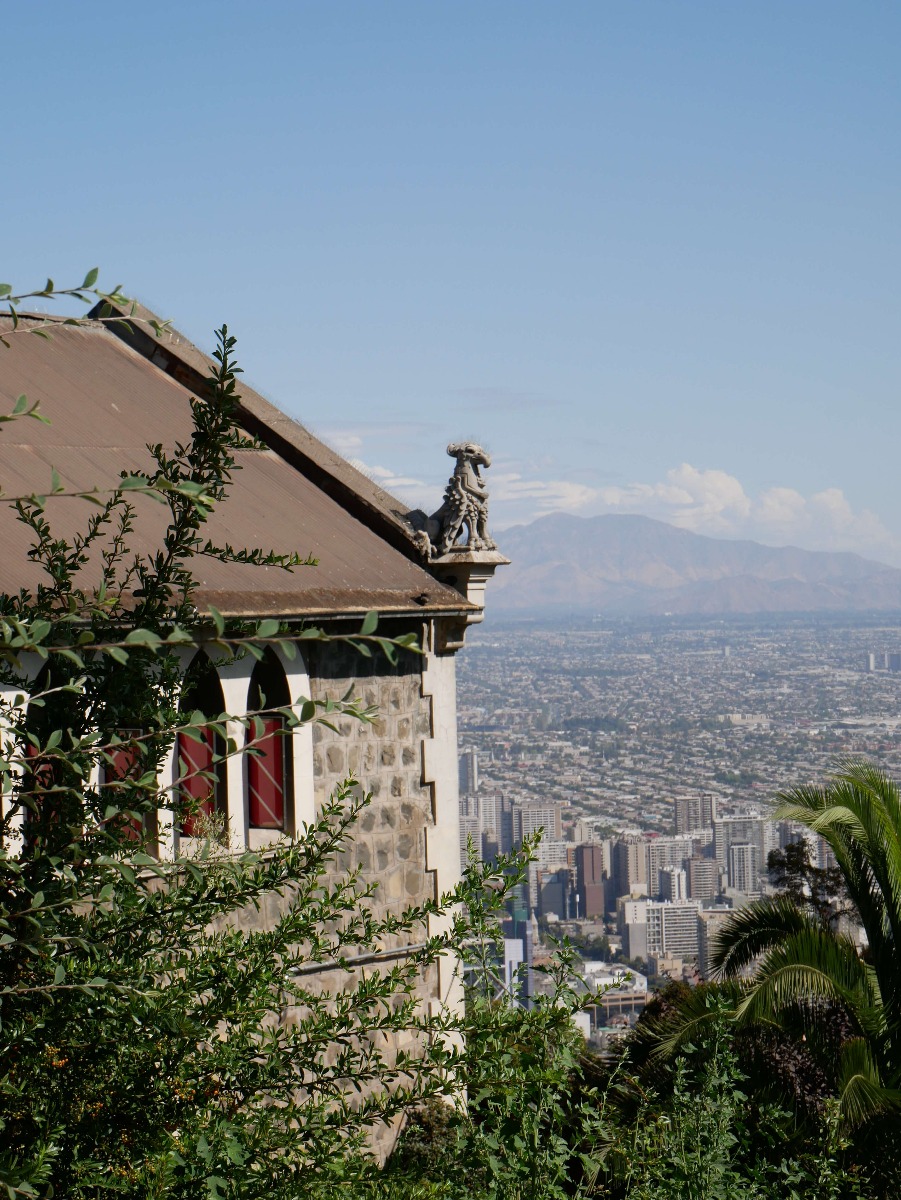 We began our journey from Brisbane, with a quick flight to Sydney to meet with the rest our tour group. Qantas Australia having only recently starting to provide a direct flight from Sydney to Santiago, meant that our 14 hour flight was a full one. Telan and I were both far too excited to sleep however, so we passed our time enjoying the hospitality of the Qantas crew, and speculating on what activities the Panasonic team had organised for us.
We arrived in Santiago, keen to shake off the long haul flight feels, we eagerly awaited to get through customs… and then we waited… and waited. After 3 hours of waiting to get through customs we finally made it to our transfer, only for the bus to breakdown! We were off to a good start. We transitioned through shanty towns and wild horses to reach the city centre of colourful Santiago. We pulled up at the extravagant Ritz Carlton to be met by the Panasonic team Scott, Josh, andDoug for light refreshments and a quick introduction to the other Australian retailer representatives.
We had just enough time to freshen up before heading out for our afternoon activity, a cable car ride up to San Cristobal Hill. Along the 15 minute ascent, we were provided with panoramic views of the city of Santiago and its surrounding areas, including the looming Andes in the distance. At the summit of San Cristobal there is a 22-meter statue of the Blessed Virgin Mary, in dedication to the Immaculate Conception of Jesus Christ. Beneath the statue there are winding pathways and places of prayer and reflection, as well as an open-air chapel and various market stalls attracting plenty of tourists and locals alike. We spent the afternoon exploring the little nooks and secret gardens and taking in the impressive views for multiple different vantage points around the summit. We then took the cable car half way back down the hill to enjoy a relaxing dinner, and the sun setting over the city skyline.
DAY TWO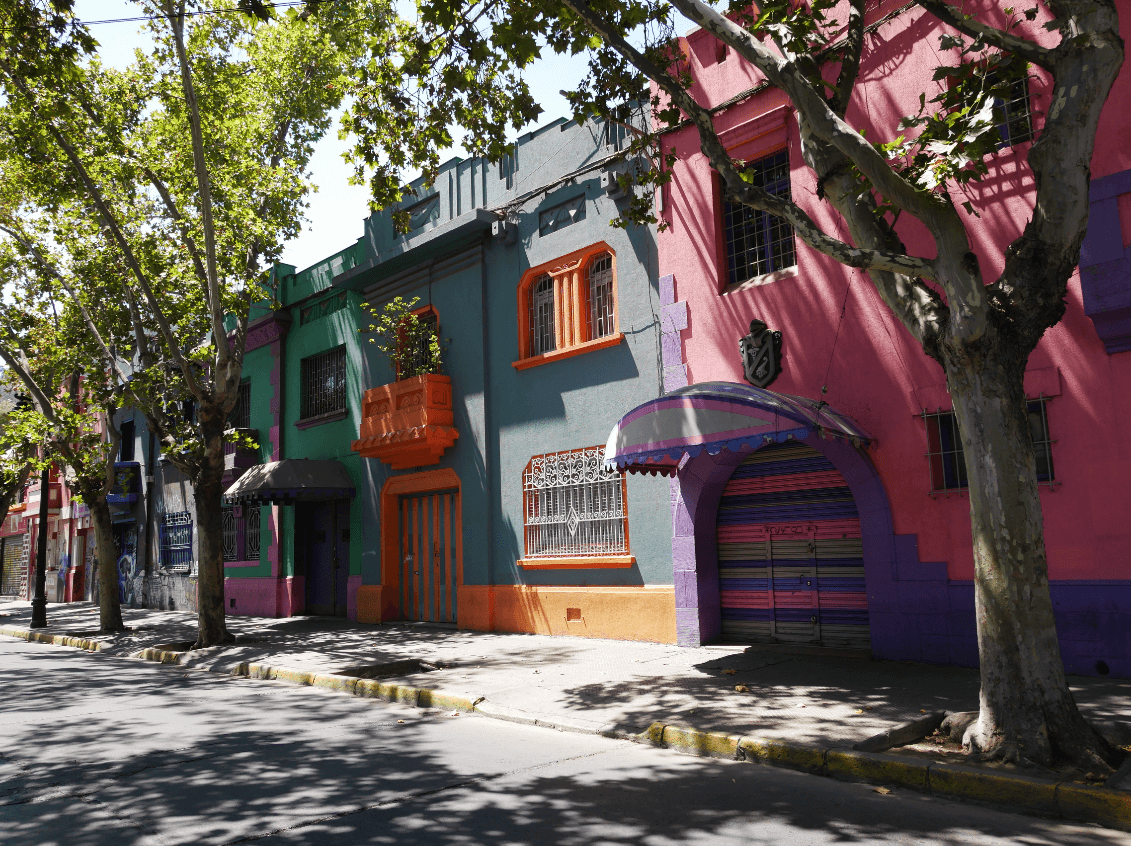 Our second day featured a bicycle tour of the city with the fantastic guys from Labicicle Taverde. Our passionate tour guides shared insights on the city's history, including Chile's tumultuous political history and its present day impact on the arts and culture of their capital city.
Probably one of the most fascinating pieces of Chilean contemporary culture that we came across was the sheer number of stray dogs in the city and its surrounding suburbs. Telan and I (both dog mums) quickly noticed that these dogs were well cared for, they were clean and well fed and very, very sociable. Our tour guides were proud to share that these dogs were cared for by locals and communities who saw them not as 'strays' but more like another member of the family. Everywhere we went in the city, we saw these happy creatures participating in city life like any other Chilean.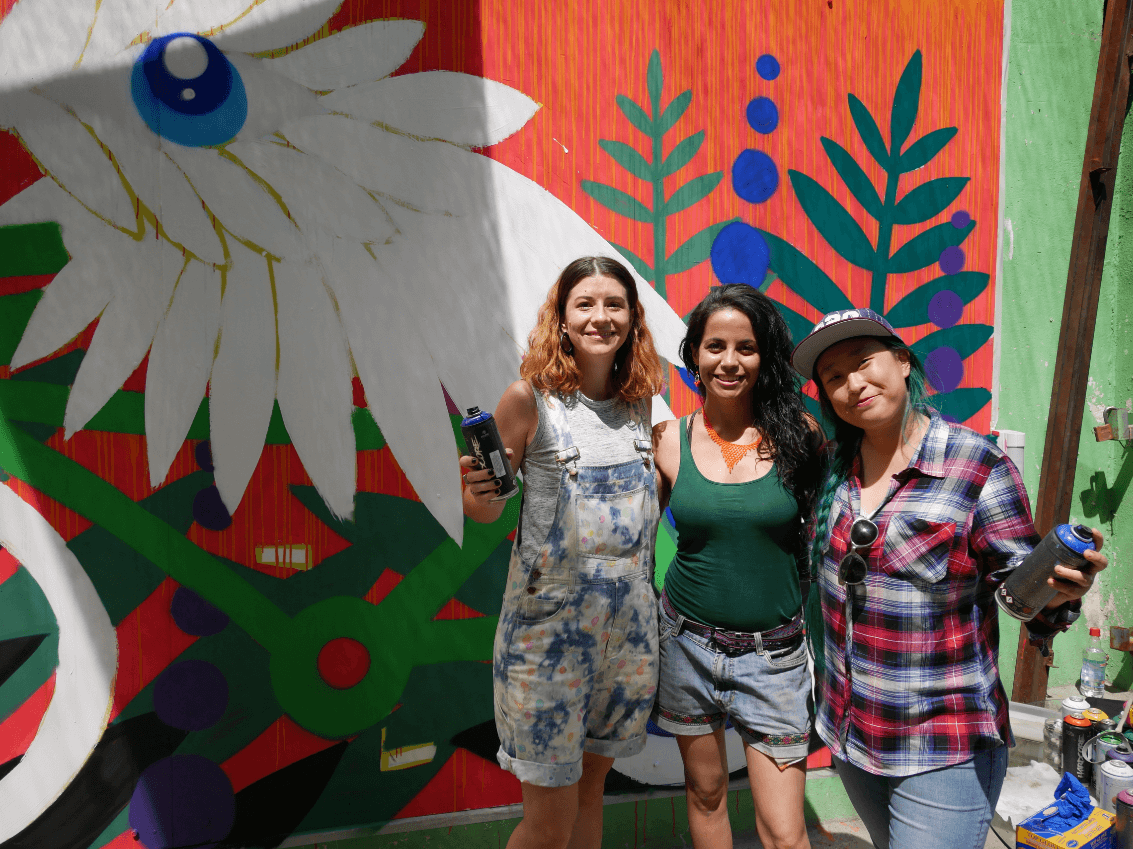 After our bicycle tour, our friends at Labicicle Taverde took us on a walking tour of Los Condes, a neighbourhood bursting with colour and character. The buildings and walls throughout this neighbourhood are an ever-changing canvas for a huge number of talented Graffiti artists.
Our photo walk ended at the Labicicle Taverde headquarters where in the delightful courtyard, a wonderful surprise had been organised for us. On our tour we had visited several murals created by local artist Juana Perez, and lo behold who was there painting a new mural for the Labicicle Taverde team? Juana Perez herself! We were so excited to meet with her and she even had us help with the mural she was working on! We left our mark in Santiago, enjoying our new found friendships with an afternoon fiesta of local beers and snacks.
DAY THREE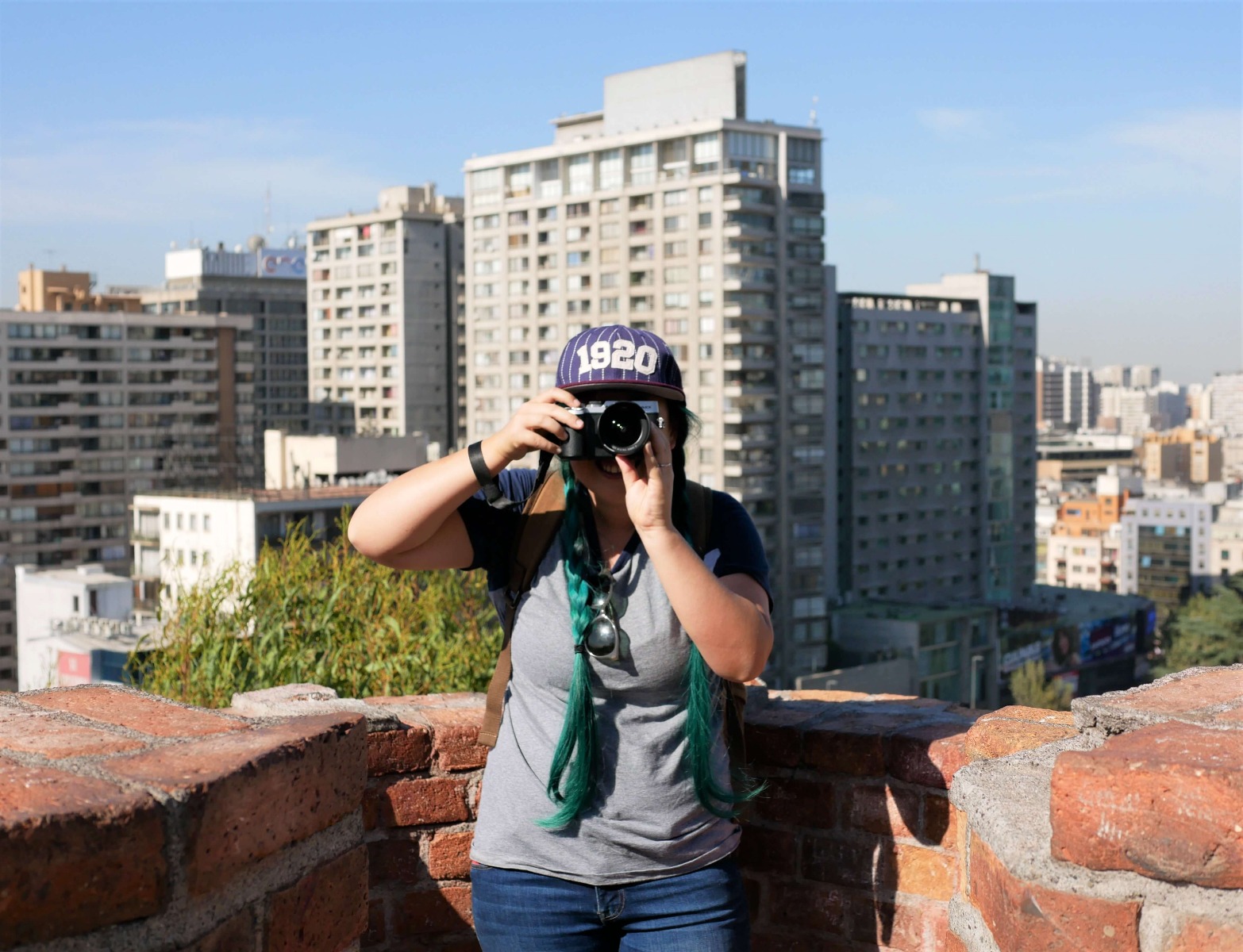 On our third day we were treated a free morning, so we took the opportunity to meet up with one of Telan's friends Edu, a Santiago local. Edu took us to Santa Lucia Hill with an altitude of 629m, a remnant of a 15 million year old Volcano now a looming hill in the middle of downtown. In the 1540's the land was seized from the First Nations Mapuche and converted into a military fort and vantage point. Now it stands as a tourist beacon. We then went on to another nearby neighbourhood, Barrio Italia to explore its laneways and street markets. There were a number of cafes, shops and impressive antiques shops filled to the brim with treasures and local characters.
Edu was also kind of enough to take us to his workplace, a newly renovated shared community workspace and garden. The compound included room for different start ups and non-for-profit organisation who focus on education, sustainability and inclusiveness in the community. Check out Edu's facebook page here.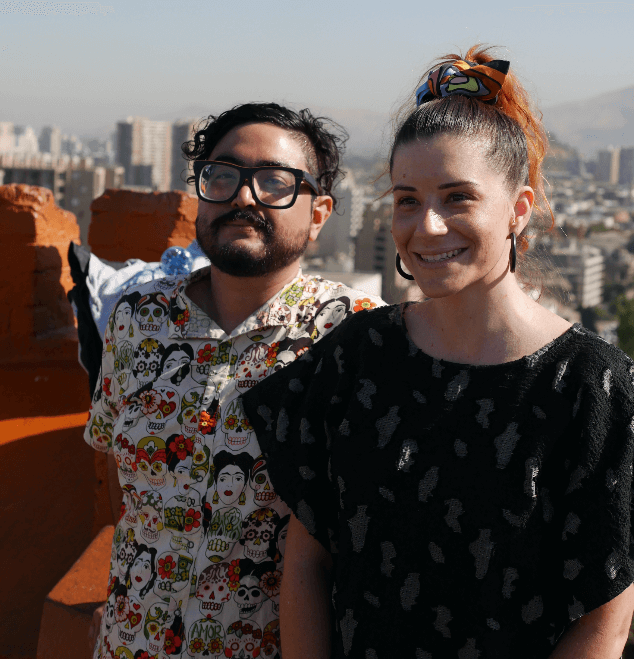 Edu dropped us back off at the Ritz where we had time to try and order burgers for ourselves in Spanish with the help of some local english speaking lunch goers, for reference 'ondulado' means crinkle cut for a chip.
In the dry, hot afternoon we bussed our way out of the city to Santa Rita 'gold medal winning' winery. Founded in 1880 by Domingo Fernandez, the winery has passed over hands and families throughout the years who have all nurtured the beautiful grounds with Flora from all around the world. We were met with great surprise to see a good old Gum tree in the gardens along with the antique statues and traditional baths that have survived many earthquakes over the decades. The Winery is so impressive that John Travolta has enjoyed a stay at the Casa Real Hotel. It is a luscious green land complete with vineyard, Andean Mapuche Museum and an architecturally, stunning church. Our guide was very proud to let us know Santa Rita are the official sponsors of Arsenal football club.
We were taken to the cellars to enjoy a wine and cheese tasting in the cool underground. Our tour guide had let us know that they were the original cellars and the bricks were concreted with an egg white compound which left us a little baffled...so many chickens...for so many eggs.
After the tasting we strolled our way up to another gorgeous courtyard of a hacienda and dined under a canopy of ripening grapes whilst listening to a string quartets renditions of modern songs.
DAY FOUR
Portillo Ski Resort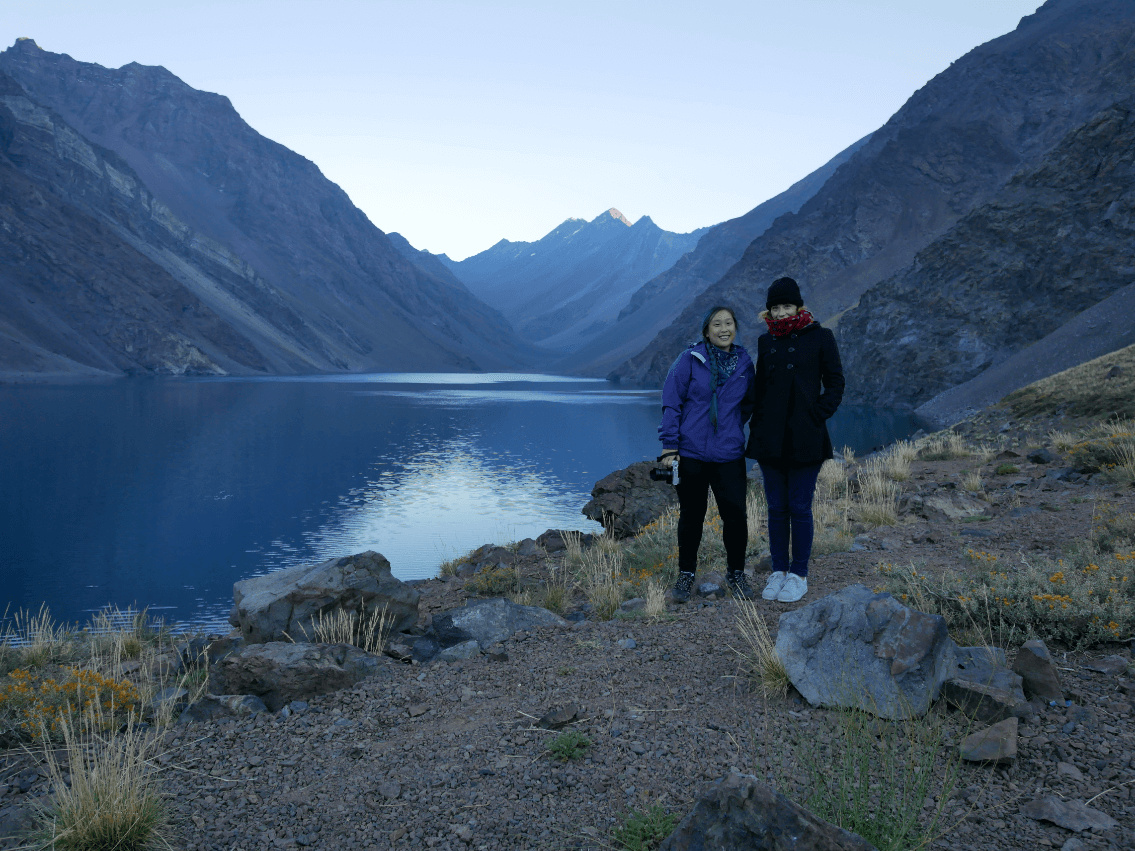 Our Panasonic team were on the road at 4am to beat the Sunrise in The Andes. We travelled for 2 hours on hairpin roads to reach altitudes of 3000m above sea level. We were met with a crisp and welcomed 4 degree temperature. After exploring our surrounds we entered the Portillo Ski resort for a heart warming breakfast and hot coffee before starting more adventures for the day. We made our way down to the blue-green waters of Laguna Del Inca, Legend tells that the spirit of the Inca, Illi Yunqui, that haunts the watery tomb in which he buried his soul-mate, the Princess Kora-Illé, who had tragically fallen from a cliff during a royal mountain banquet. We were guided onto kayaks to explore the waters and were lucky enough to be part of some magical drone footage to capture the moment. Our groups then swapped up and we throttled our way up and down the rocky tracks of The Andes on 4WD buggies. After a bird show and BBQ lunch in the Ski Resort when bustled our way back to Santiago to prepare for our next meal. We hope you can tell that there wasn't a second of the trip that anyone could have felt remotely hungry, the Panasonic guys kept us well fed and hydrated. We arrived at the Food Truck Neighbourhood to dine on delicious foods and local craft beers… the craft beers then turned to Pisco sours and Gin. After feasting and contemplating getting tattoos in the neighbourhood we were chaperoned by the Panasonic team to a local Karaoke Bar and Reggaeton club to sing and dance the night away.
DAY FIVE
Day five started off with a photo tour of seas side Valparaiso, the tapestry of colour. Valparaiso is known for it's steep funiculars and colorful, clifftop homes, overlooking the ocean.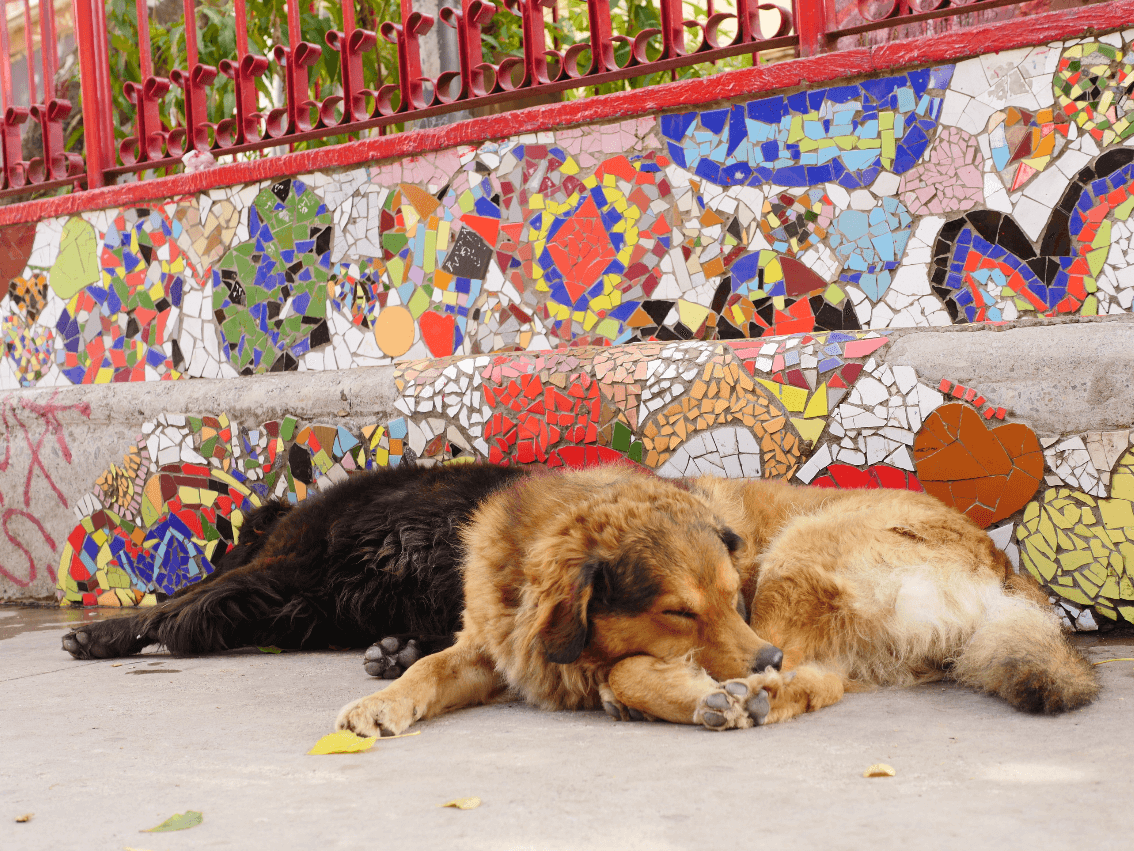 After a huge previous day on the tour, we had another very early start we got on a bus for a 2hour journey to the coastal town of Valparaiso. Once we'd arrived in the colourful town, we were taken on an in depth walking tour again with our firends at Labicicle Taverde - together we explored all of the laneways and side streets across the hills in the area, checking out all of the beautiful street art. We'd seen a lot of street art on the trip already but what we saw in Valparaiso was a whole nother level - far more impressive than anything else we had seen on trip. We wound our way through the streets, learning about the street artists, many of whom we'd seen other works of in Santiago. The artworks were very impressive and of a much largers scale than we'd seen before. Towards the end of the walking tour we stopped to visit a local business owner who presented us with individually wrapped beautiful (and delicious) homemade chocolates. After a few hours exploring Valparaiso we'd earned ourselves a break and we finsihed off the morning with a delicious lunch at a local restauraunt.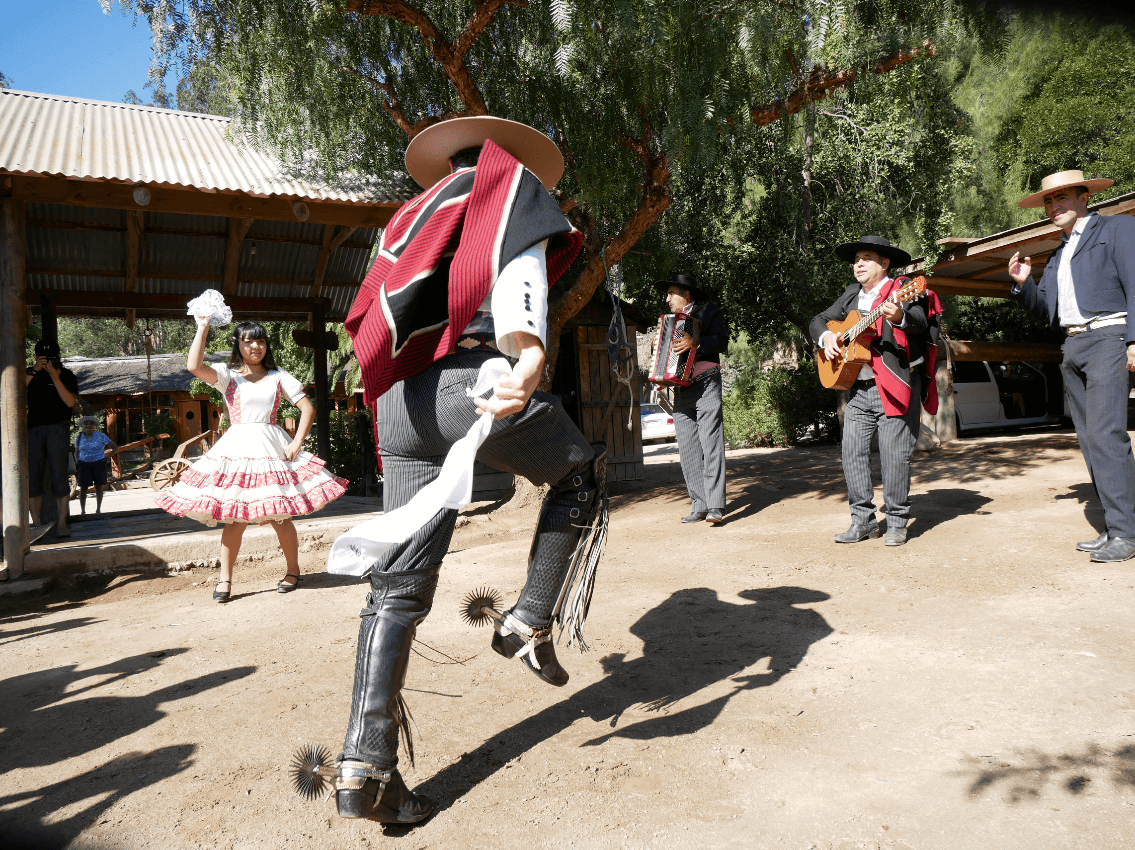 We bused another hour away for our Farewell Fiesta in Casablanca in true South American style. We were welcomed by two dancing horses donning the Australian and Chilean flags. Our next delight was to witness a vibrant Traditional Chilean dance. We then made our way over to the rodeo ring where Chilean horsemen and their enchanting horses performed some very skilled roping, riding, herding and even a little horse dancing. Telan was even lucky enough to be selected by one of the horses to be given a posy of Gerberas. An early dinner was hosted in a traditional building with dirt floors, a banquet featured Barbecued meats, Chilean salads and mountains of desserts. After our last feast we dispersed into the grounds to play giant jenga, bocci, ring toss whilst watching some more traditional dancing from our Chilean friends. Jess and I took the opportunity to use golden hour to take some shots. Jess had a hot tip she passed on to me from her Dad "Get in the flowers" where I found myself standing in a flower bush having a portrait shot taken. When the sun set we finished up our games we got back on the bus, saddened that the trip of a lifetime was coming to an end so quickly. We reached our hotel and prepared ourselves for the 14 hour trip home the next day.
We would like to thank the team at Panasonic for such a decadent and luxurious trip, we came back with full hearts, colourful memories and a couple of extra kgs from all the food.